My Blog
Posts for: October, 2020
By Mark A. Eby, D.D.S., P.C.
October 19, 2020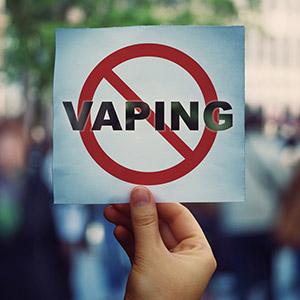 E-cigarettes have taken the world by storm, especially among younger adults. The reason: the widespread perception that "vaping" is healthier than smoking tobacco.
But a deeper look at this wildly popular habit reveals a product that doesn't live up to its reputation as smoking's "safer alternative." One aspect of health that's especially in harm's way is the mouth: Teeth and gums could in fact be just as prone to disease with an e-cigarette as the tobacco variety.
E-cigarettes are handheld devices that hold a cartridge of liquid vaping product, which is then heated to produce an inhalable vapor. Technically, it's an aerosol in which solid chemical compounds within the vaping liquid are suspended in the vapor. The aerosolized vapor thus serves as a transporting medium for these chemicals to enter the user's body.
It's these various chemicals inhaled during vaping that most concern dentists. Top on the list: nicotine, the addictive chemical also found in regular tobacco. Among its other effects, nicotine constricts blood vessels in the mouth, causing less blood flow of nutrients and infection-fighting cells to the gums and teeth. This not only heightens the risk for gum disease, but may also mask initial infection symptoms like swelling or redness.
Flavorings, a popular feature of vaping solutions, may also contribute to oral problems. These substances can form new chemical compounds during the vaping process that can irritate the mouth's inner membranes and trigger inflammation. There's also evidence that e-cigarette flavorings, particularly menthol, might soften enamel and increase the risk of tooth decay.
Other chemicals commonly found in vaping solutions are thought to increase plaque formation, the sticky film on teeth that is a major cause for dental disease. And known carcinogens like formaldehyde, also included in many formulations, raise the specter of oral cancer.
These are just a few of the possible ways vaping may damage oral health. Far from a safe tobacco alternative, there's reason to believe it could be just as harmful. The wise choice for your body and your mouth is not to smoke—or vape.
If you would like more information on the oral hazards of e-cigarettes, please contact us or schedule an appointment for a consultation. You can also learn more about this topic by reading the Dear Doctor magazine article "Vaping and Oral Health."
By Mark A. Eby, D.D.S., P.C.
October 09, 2020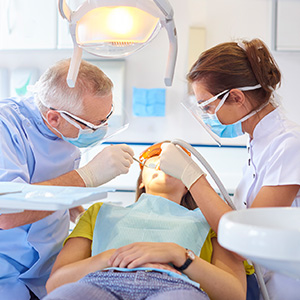 After years battling disease, your troubled tooth reached its useful life's end. It's been extracted, and we've replaced it with a life-like dental implant. So now, as far as the implant goes, disease is no longer an issue…right?
Sorry, no—though not to the same degree as a natural tooth, an implant could be endangered by gum disease. Although the implant's materials can't be infected, the supporting gums and bone can.
In fact, there's a particular type of gum disease associated with implants known as peri-implantitis ("peri" around an implant; "itis" inflammation) that first affects the gums surrounding an implant. Although peri-implantitis can arise from an excess of dental cement used to affix the crown to the implant, it most commonly starts like other forms of gum disease with dental plaque.
Dental plaque, and its hardened form calculus (tartar), is a thin, bacterial biofilm that builds up on teeth surfaces. It can quickly accumulate if you don't remove it every day with proper brushing and flossing. The bacteria living in plaque can infect the outer gum tissues and trigger inflammation.
Gum disease around natural teeth can spread quickly, but even more so with implants. That's because the natural attachment of the gums helps supply antibodies that impede infection. Implants, relying solely on their connection with the bone, don't have those gum attachments. As a result, peri-implantitis can move rapidly into the supporting bone, weakening the implant to the point of failure.
The good news, though, is that peri-implantitis can be treated successfully through aggressive plaque removal and antibiotics. But the key to success is to catch it early before it progresses too far—which is why you should see your dentist at the first sign of gum swelling, redness or bleeding.
You can also prevent peri-implantitis by practicing daily brushing and flossing, including around your dental implant. You should also see your dentist twice a year (or more, if they advise) for cleanings and checkups.
Dental implants overall have a greater than 95% success rate, better than any other tooth restoration system. But they still need daily care and regular cleanings to ensure your implants are on the positive side of those statistics.
If you would like more information on caring for your dental implants, please contact us or schedule an appointment for a consultation.