My Blog
Posts for: September, 2020
By Mark A. Eby, D.D.S., P.C.
September 19, 2020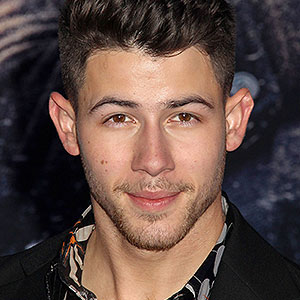 Think no one is looking at your smile when you're out in public? Nick Jonas' recent experience might convince you otherwise. While the Jonas Brothers were performing during the 2020 Grammys, fans watching on television picked up on some dark matter between his teeth.
To say Twitter lit up is an understatement. For many, it was that thing you couldn't unsee: Forget the performance, what was that between his teeth? Jonas later fessed up by tweeting, "…At least you all know I eat my greens."
We're sure Nick and his brothers take care of their teeth, as most any high-profile entertainer would. You can probably attribute his dental faux pas to trying to squeeze in some nourishment during a rushed performance schedule.
Still, the Grammy incident (Spinachgate?) shows that people do notice when your teeth aren't as clean as they should be. To avoid that embarrassment, here are some handy tips for keeping your teeth looking their best while you're on the go.
Start with a clean mouth. You're more apt to collect food debris during the day if you have built-up plaque on your teeth. This sticky bacterial biofilm attracts new food particles like a magnet. Remove plaque by thoroughly brushing and flossing before you head out the door.
Rinse after eating. Although your saliva helps clear leftover food from your mouth, it may not adequately flush away all the debris. You can assist this process by swishing and rinsing with clean water after a meal.
Keep a little floss handy. Even after rinsing, stubborn bits of food can remain lodged between teeth. So just in case, keep a small bit of emergency floss (or a floss pick) in your purse or wallet to remove any debris you see or feel between your teeth.
Watch what you eat. Some foods—like popcorn, sticky snacks or fibrous vegetables—are notorious for sticking in teeth. Try to avoid eating these foods right before a public appearance where your smile may be critical.
And here's an added bonus: Not only will these tips help keep your smile attractive on the go, they'll also help keep it healthy. Rinsing with water, for example, helps lower your mouth's acid level after eating, a prime factor in tooth decay. And flossing, both as a regular practice and for occasional stuck food, decreases plaque and subsequently your risk of tooth decay and gum disease.
Remember, a healthy mouth is the starting place for a beautiful smile. Keep it that way with dedicated hygiene habits at home or on the go.
If you would like more information on tips for better oral hygiene, please contact us or schedule a consultation. To learn more, read the Dear Doctor magazine article "Daily Oral Hygiene."
By Mark A. Eby, D.D.S., P.C.
September 09, 2020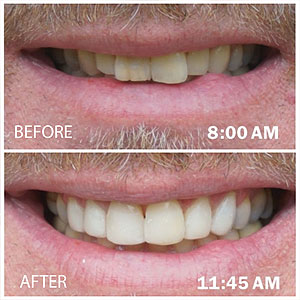 Orthodontics, veneers and other cosmetic dental techniques can turn a less than perfect smile into a beautiful one—but not always very quickly. For example, porcelain veneers can take weeks from planning to installation, including the meticulous work of an outside dental lab to produce veneers that look natural as well as beautiful.
But you may be able to take advantage of another approach, one that often takes no more than a couple of dental visits. Called direct veneers, it's actually a process of bonding and sculpting life-like composite materials to teeth that are heavily stained, chipped or that contain tiny crevices called "craze lines."
Unlike the similarly-named traditional method, direct veneers don't involve the creation of layered porcelain veneers fashioned by a dental lab. But this newer process is similar to the older one in that some of the enamel must be removed from the teeth in question to provide a suitable surface for the composite material to adhere. This alteration will be permanent, requiring a restorative covering on the treated teeth from then on.
Right before this preparation, though, a dentist typically makes an impression of the patient's mouth. This will be the basis for creating the procedural plan for the dental work, particularly a "trial smile" from similar composite material that can be applied to the patient's teeth before actual restoration work begins. This temporary application gives both patient and dentist an opportunity to visualize the final look, and make needed adjustments in color and shaping.
Once the work plan is finalized, the patient then returns for the actual restoration procedure. The dentist begins by applying and bonding the composite material to the prepared teeth. Then, using a drill and manual instruments, the dentist shapes and smooths the material into a tooth-like appearance that blends with other teeth. The procedure can take a few hours, but it can usually be completed during a single visit.
Although direct veneers may not last as long as porcelain veneers, the process is less costly and requires less time to complete. Direct veneers could be an economical solution for achieving a more attractive smile.
If you would like more information on direct veneers, please contact us or schedule an appointment for a consultation. You can also learn more about this topic with a firsthand patient account by reading the Dear Doctor magazine article "A New Smile With Direct Veneers."